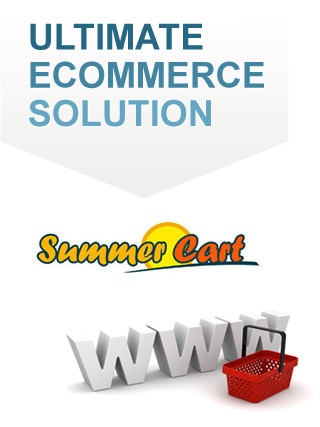 Summer Cart is 100% SEO shopping cart software
You receive a complete set of built-in features that enable you to run a fully search engine optimized e-commerce website.
With no need to pay extra for on-site SEO services or add-on modules you will naturally increase your sales.
Search engine friendly URLs
SEO keywords and description on every page
Easy creation of Meta tags
XHTML and CSS compliant store
Automatic generation of Google, Yahoo and Bing Sitemaps
Unrivaled admin panel with over 1000 features
You will spend less time working on the e-commerce website, and more time on your business with the easy-to-use, fast and intuitive Admin Panel of Summer Cart.
Free installation
Store setup wizard
Help & Tips on every screen
Useful sorting, filtering and search options
Advanced order management
Print multiple invoices and packing slips
Super-easy product management
Usable and customer-focused store
Thanks to a broad list of features Summer Cart is a ready-to-go e-commerce solution that will make you money right from the start.
Multiple images per product
Product ratings & reviews
Product options
Product variants
Customer groups
Wholesale prices & Quantity Discounts
Flexible discounts & coupons
Free Shipping discount
Numerous payment & checkout options
Multi-language support
39 automatically updated currencies
Related products
Product comparison by attributes
Quantity-In-stock & Out-Of-Stock tracking
Newsletter
300+ satisfied clients
The feedback from over 300 online retailers, who actively use Summer Cart shopping cart, proves the Store Front of the solution is highly usable, customer-focused and sales-oriented. View more
Online Demo
View, customize, configure and see on the go all features and functions of Summer Cart shopping cart. View more
Become a reseller
As reseller you are eligible to sizable discounts. We offer quality marketing materials, access to our team of marketing and technical experts. View more
Web Design
Custom Design Packages are targeted to create exciting appearance and excellent usability of Summer Cart stores, and convey owners' unique approach to their customers. View more