Software Development
.Net Development
Our .Net expertise in brief: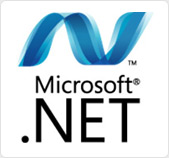 Completed .Net projects: over 80
Years in business: 7 years
Largest .Net application delivered by us: 280 000 lines of code,
2 years of work
Smallest .Net application delivered by us: 250 lines of code,
5 hours of work
C# .Net desktop applications
We often create a complete business solution that includes customer relations, resources management, user management, import and export of data, reports, integrations, automatic updates and so on.
.Net mobile applications
Our C# programmers can develop you a custom mobile solution based on Windows CE and the .NET Mobile Framework.
C# .Net web applications
If your company has employees working from different physical locations and with different operating systems such as Microsoft Windows, Linux and MacOS, then our experienced C# developers can create a Web-based application for your business.
.Net plugins
Sometimes all you need is just an addon for your favorite office program, like Microsoft Word or Excel. Or something completely different? We will certainly help you. Just tell us what you need.
Only high quality software services and products
Fast delivery
Attention to detail
Use of proprietary .Net framework
Use of proprietary project management software
Use of proprietary ticket system ticket system
Exceptional technical expertise in .Net
We often build complex, integrated solutions that are not limited to a single platform or operating system. For example you may operate a desktop-based corporate ERP solution, where you manage your company resources and data, run reports, etc. At the same time (some of) your employees may be using an integrated mobile application to access and enter data, for example to track items delivered by your suppliers. Then you may have one or more web-based applications such as an e-commerce solution, where your clients interact with your company online (e.g. browse products, make purchases, etc).
We will gladly assist and consult you with your project, no matter big or small! Write us or request a free quote..
Quick Facts about Mirchev Ideas
Users
More than 6 000 000 people around the globe use applications and websites developed by Mirchev Ideas.
Projects
As a total more than 800 projects have been developed so far, in less than 7 years.
Intellectual property
We take intellectual property for serious. Our own development and management platforms guarantee transparency and reliability to customers.
We have a RAD framework "MI .Net Framework" that keeps the company innovative and competitive
An advanced project management software "MI Project" enables us to plan resources and monitor development easily
A user-friendly ticket system allows us to quickly sort out problems